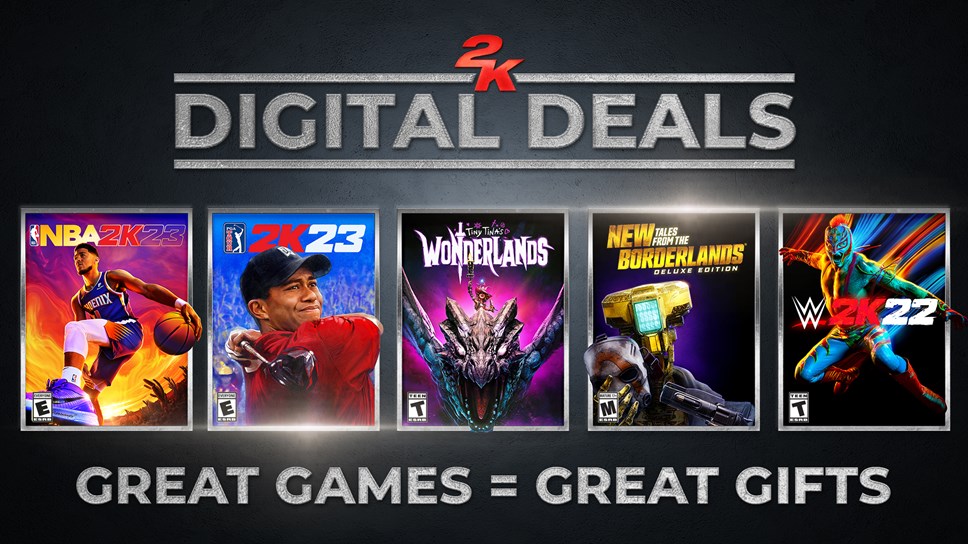 Deals on 2K's Biggest Games for Black Friday and Cyber Monday
Players can enjoy significant savings this holiday season on blockbuster titles such as NBA® 2K23, PGA TOUR® 2K23, The Quarry, Tiny Tina's Wonderlands® and more
With the holidays right around the corner, it is a great time to look for gifts for that special someone in your life. 2022 has seen exciting new titles such as NBA® 2K23 and New Tales from the Borderlands®, while also offering updates on classics such as Civilization® VI.
Starting on November 17*, shoppers can receive major discounts on some of 2K's biggest hits. Whether you're looking for the perfect gift, or just want to give a new title a try, now is a great time to check out some of the best deals from your favorite retailers.
NBA 2K23
Rise to the occasion and break barriers with NBA 2K23. The award-winning NBA basketball sports video game simulation series features all-new gameplay innovations and animations, iconic fan-favorite teams and an authentic and hyper-real basketball experience with online community features and upgraded game modes. This year, fans can relive their favorite and most memorable moments from Michael Jordan's storied career in the revamped and groundbreaking Jordan Challenge sports game mode. Check out the full list of the deals on the game's official website.
WWE® 2K22
Featuring Rey Mysterio on the cover in celebration of his 20th anniversary as a WWE Superstar, the game features a redesigned gameplay engine, stunning graphics, intuitive and accessible controls, multiple new game modes, and an immersive presentation. Check out the full list of the deals on the game's official website.
PGA TOUR® 2K23
The title offers over 14 playable pros in-game, including iconic cover star and 2K exclusive athlete Tiger Woods, the franchise's first female pros, as well as some familiar celebrity faces. Gamers can discover the brand new Topgolf mode, more licensed courses, a choice between the optional new 3-Click or returning analog stick swing for seamless swings, player archetypes, customizable balls and gear, club fitting, pro rivals, sponsorships, and more! Check out the full list of the deals on the game's official website.
Tiny Tina's Wonderlands®
Embark on an epic adventure full of whimsy, wonder, and high-powered weaponry! Bullets, magic, and broadswords collide across this chaotic fantasy world brought to life by the unpredictable Tiny Tina, who makes the rules, changes the world on the fly, and guides players on their journey. Customize your own multiclass hero and loot, shoot, slash, and cast your way through outlandish monsters and treasure-filled dungeons on a quest to stop the tyrannical Dragon Lord. Everyone's welcome, so join the party, throw on your adventuring boots, and be Chaotic Great! Check out the full list of deals on the game's official website.
New Tales from the Borderlands
Within the perpetually war-torn metropolis of Promethea, you'll control Anu, Octavio, and Fran on the worst day of their lives. Help these three lovable losers as they endeavor to change the world (and maybe even save it)! Face down a planetary invasion, vicious vault monster, and cold-hearted capitalist in this cinematic thrill ride where what happens next is up to you! Meet a motley cast full of misfits, assassin bots, and talking guns in this race to the top! It's time to fight back against exploitation and corporate greed. It's time to make Mayhem your business. Check out the full list of deals on the game's official website.
The Quarry
As the sun sets on the last day of summer camp, the teenage counselors of Hackett's Quarry throw a party to celebrate. No kids, no adults and no rules. Things quickly take a turn for the worse as their party plans unravel into an unpredictable night of horror, hunted by blood-drenched locals and something far more sinister. In this thrilling cinematic tale, you control the fates of all nine camp counselors. With life-or-death decisions around every turn, the choices you make will determine how the story unfolds. For returning players, check out the recently released '50s Throwback Character Outfits Pack to bring the look and feel of 1950s horror cinema to The Quarry! Check out the full list of the deals on the game's official website.
Sid Meier's Civilization VI
The ultimate entry point for gamers new to one of the greatest strategy game series of all time. Explore new land, research technology, conquer your enemies, and go head-to-head with historical leaders as you lead your civilization from rocks to rockets. Fresh for veteran players and newcomers is Civilization VI: Leader Pass, offering new ways to rule by delivering 18 new playable leader selections to Civilization VI from November through March 2023. Check out the full list of the deals on the game's official website.
*Titles and sale times may vary by retailer. Check out the 2K Store or see participating retailers for details.
For more information on all titles and 2K please visit www.2k.com.
2K is a publishing label of Take-Two Interactive Software, Inc. (NASDAQ: TTWO).
###