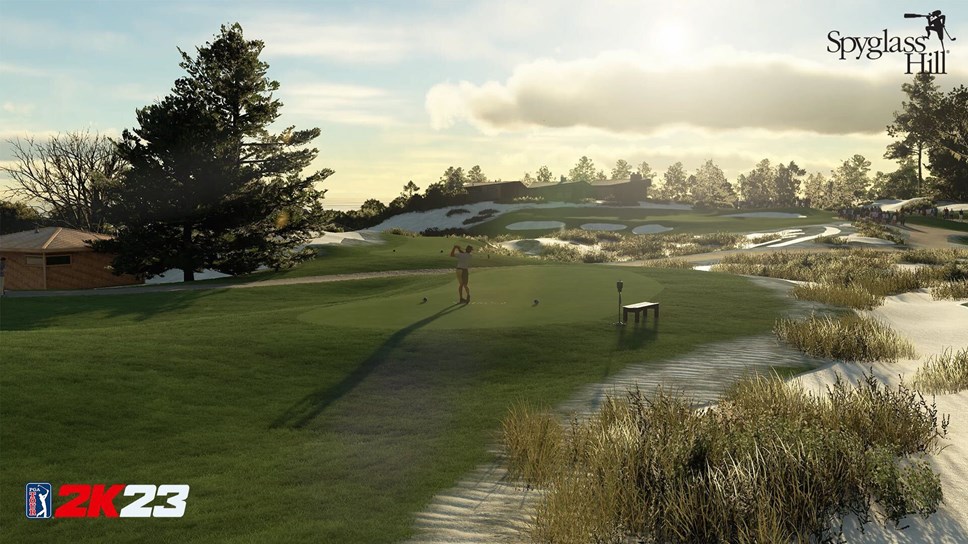 PGA TOUR® 2K23 Welcomes Players to Spyglass Hill Golf Course
Spyglass Hill Online Society event, NBA Northwest Division apparel and Urban Accents Course Designer elements also available this week
Players in search of a true challenge can take on Spyglass Hill Golf Course, available now* in PGA TOUR® 2K23, the highest-rated golf simulator game of the past decade on Xbox platforms and PC, according to Metacritic.**
Located in scenic Pebble Beach on California's Monterey Peninsula, Spyglass Hill Golf Course is one of the host courses for the AT&T Pro-Am, alongside Pebble Beach Golf Links. Spyglass Hill is known for unruly dunes, breathtaking ocean views, the Del Monte Forest, and the Santa Cruz mountains in the distance, adding up to one of the most difficult but beautiful public golf courses in the world. The greens are famously challenging, with an array of speeds and slopes requiring a strategic approach to master. An Online Society event challenging players to take on the new course will tee off on Thursday, April 27.***
Also ongoing in PGA TOUR 2K23 for a limited time are licensed NBA gear drops, available Friday through Thursday each week until May 25. This week, new gear will be available representing teams from the Northwest Division, including the Denver Nuggets, Minnesota Timberwolves, Oklahoma City Thunder, Portland Trail Blazers, and Utah Jazz, starting Friday, April 28 and available until Thursday, May 4. The gear - including tops, shorts, hats and gloves - is available in the Pro Shop and can be equipped to MyPLAYERS. Southeast Division gear, representing teams including the Atlanta Hawks, Charlotte Hornets, Miami Heat, Orlando Magic, and Washington Wizards, is currently available until Thursday, April 27.
In addition, new Urban Accents design elements - including toll booths, parking lot accessories, planters and sidewalk pieces - are available now in the Course Designer, only available in PGA TOUR 2K23. More new content, including playable pro Nelly Korda, will be coming soon.
PGA TOUR 2K23 Deluxe Edition, Tiger Woods Edition and Standard Edition are available now for Xbox Series X|S, Xbox One, PlayStation®5 (PS5™), PlayStation®4 (PS4™) and Steam.
​​For more information on PGA TOUR 2K23 and 2K, visit https://pgatour.2k.com/2k23/, become a fan on Facebook, subscribe on YouTube, follow the game on Twitter, Instagram and TikTok, and use the hashtag #PGATOUR2K23
*PGA TOUR 2K23 required to access content. Terms Apply. Some cosmetic items and consumables may require unlocking with virtual currency (earned or paid) or via gameplay. Spyglass Hill Golf Course available free to all players with automatic update.
**Based on PGA TOUR 2K23's Metacritic scores for Xbox Series X|S and PC, as of April 24, 2023.
***Online Account (13+) required to access online features. See www.take2games.com/legal and www.take2games.com/privacy for additional details.
HB Studios is a 2K studio. 2K is a wholly owned publishing label of Take-Two Interactive Software, Inc. (NASDAQ: TTWO).