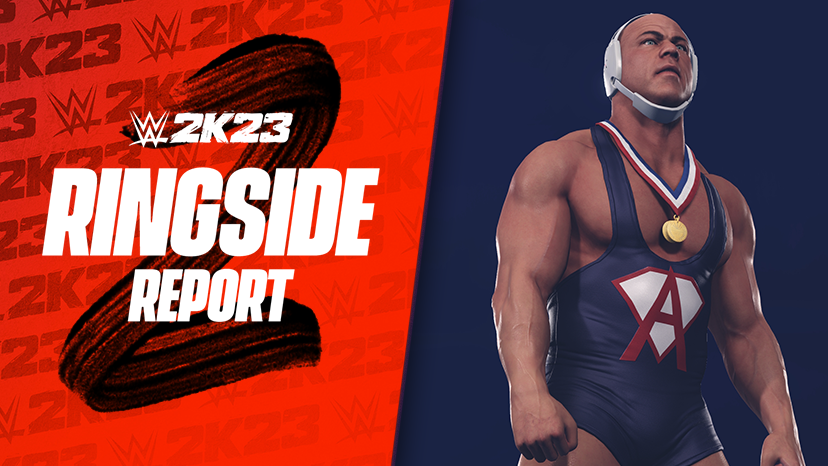 Prove You're Even Stronger Than WWE® 2K23 Cover Superstar John Cena in 2K Showcase "You Can't Beat Me"
In a franchise first, step into the shoes of some of John Cena's toughest rivals across a historic 20-year WWE career through an interactive sports documentary
2K today unveiled new details of the 2K Showcase "You Can't Beat Me," in which players will experience an interactive sports documentary covering pivotal moments from cover Superstar John Cena's 20-year WWE career, coming to WWE® 2K23 at launch on March 17*. In a fresh take on the 2K Showcase formula, players will step into the shoes of some of Cena's greatest opponents and prove they have what it takes to defeat the all-time great.
Check out an in-depth Ringside Report written by Dino Zucconi, Showcase Lead Designer at Visual Concepts, detailing the thought process and challenges behind creating the Showcase, as well as the full match list, here.
"You Can't Beat Me" introduces a new take on the Showcase formula, with iconic matches and in-game innovations, including:
John Cena's Toughest Losses: Go toe-to-toe with John Cena across each portion of his career, from a young unknown challenging Kurt Angle on SmackDown in 2002, to SummerSlam 2021 as Cena took on the Head of the Table, WWE Universal Champion Roman Reigns, and everything in between;
An Interactive Sports Documentary: Hear directly from Mr. Hustle, Loyalty and Respect himself through interspersed vignettes, explaining the history and importance of each match;
Fresh, Varied Gameplay: Play as John Cena's greatest and toughest opponents, keeping each match fresh with new move sets and strategies;
See John Cena Across Eras: Face-off against different versions of John Cena through the years, from his debut to the Doctor of Thuganomics, and the leader of the "Cenation" who has faced some of the baddest Superstars to ever set foot in a WWE ring;
Slingshot Technology: Fast-paced gameplay flawlessly transitions to live-action historical footage for a truly immersive experience.
Stay tuned for additional news in the coming weeks to reveal even more of what's new in WWE 2K23.
WWE 2K23 is scheduled for release on March 17 for PlayStation®5** and PlayStation®4, Xbox Series X|S and Xbox One, and PC via Steam. For more information on WWE 2K23, visit the game's official website, become a fan on Facebook, follow the game on TikTok, Twitter, Instagram, and subscribe on YouTube. Official campaign hashtags #WWE2K23 and #EvenStronger.
Visual Concepts is a 2K studio. 2K is a wholly owned publishing label of Take-Two Interactive Software, Inc. (NASDAQ: TTWO).
*WWE 2K23 Standard Edition and Cross-Gen will be available March 17, 2023. WWE 2K22 Deluxe Edition and Icon Edition will be available on March 14, 2023.
**PlayStation 5 console required to play PS5 version. PlayStation 4 console required to play PS4 version. Xbox Series X|S console required to play Xbox Series X|S version. Xbox One console required to redeem and use Xbox One version.
###