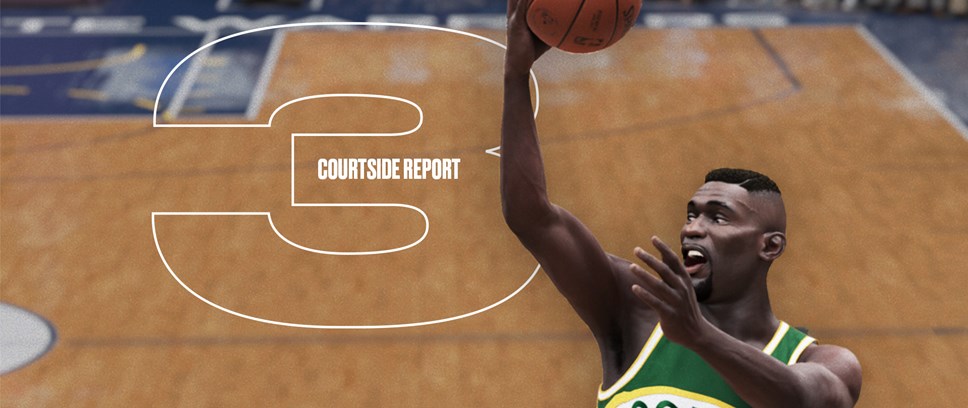 Rewrite NBA History in NBA® 2K23 with All-New MyNBA Features For PlayStation 5 and Xbox Series X|S Consoles
Explore endless 'what ifs', recreate memorable moments in NBA history, or make new league-shattering moves in MyNBA Eras
2K today unveiled the details and changes coming to MyNBA* in NBA® 2K23 for PlayStation® 5 (PS5™) and Xbox Series X|S players. Experience the ability to change the very fabric of NBA history with newly introduced Eras, creating new iconic moments with NBA legends and classic teams.
"This is a banner year for MyNBA, and our team is incredibly excited for fans of the game mode to explore the changes that have been in the making for over a decade," said Erick Boenisch, VP of NBA Development at 2K and Visual Concepts. "MyNBA Eras takes the in-depth MyNBA experience of years past and plugs it into some of the most iconic periods of the NBA, allowing players to explore endless 'what if?' scenarios in the most authentic way possible."
MyNBA provides players with a time machine that allows them to start a new MyNBA save at a specific point in NBA history called an Era. Players can play through solo, or join up with friends and choose to either relive or rewrite key moments, including:
The Magic Vs Bird Era: Starting in 1983, players will find themselves in the heat of the Magic Johnson vs. Larry Bird rivalry that took over the league. Fans can rewrite 1980's NBA history while they compete to draft the likes of Michael Jordan, Akeem Olajuwon, or any of the other NBA legends who were drafted in that legendary decade;
The Jordan Era: Beginning in 1991, The Jordan Era puts players right at the beginning of Jordan's dominant run with the Chicago Bulls. They will battle with Isiah Thomas' "Bad Boys" Detroit Pistons, John Stockton and Karl Malone, Olajuwon's Houston Rockets, and Patrick Ewing's New York Knicks for a chance to claim 1990's basketball supremacy;
The Kobe Era: The Kobe Bryant era takes fans back to 2002, where a new generation of talent had emerged in the West, including Tim Duncan and the San Antonio Spurs, Kevin Garnett and the Minnesota Timberwolves, Dirk Nowitzki and the Dallas Mavericks, and of course, the Black Mamba himself, Kobe Bryant. In addition to competing against the legends of this era, players will also be fighting for draft position in anticipation of the legendary 2003 draft class;
The Modern Era: The previous MyNBA experience is now dubbed the Modern Era. Longtime fans of the mode can continue to start with the most up-to-date rosters available and enjoy the traditional MyNBA experience.
Each Era received a variety of updates to recreate the atmosphere of the times. Every team has at least one unique court along with unique uniforms. Additionally, a specific filter system was intricately designed to recreate the television experience of watching these games as they were originally broadcast, and every expansion team and franchise relocation is accounted for in-game.
For full details on the new MyNBA updates coming to NBA 2K23 for PlayStation 5 and Xbox Series X|S consoles, check out the latest Courtside Report. Stay tuned for additional deep dives in the coming weeks to reveal even more of what's new in NBA 2K23.
NBA 2K23 is currently scheduled for release on September 9 for PlayStation 5 and PlayStation 4, Xbox Series X|S and Xbox One, Nintendo Switch, and PC platforms. For more information, please visit the NBA 2K23 official website.
Developed by Visual Concepts, NBA 2K23 is rated E for Everyone from the ESRB.
Follow NBA 2K23 on TikTok, Instagram, Twitter, YouTube, and Facebook for the latest news.
Visual Concepts is a 2K studio. 2K is a wholly owned publishing label of Take-Two Interactive Software, Inc. (NASDAQ: TTWO).
*PlayStation 5 or Xbox Series X|S required to play the new-generation version of NBA 2K23.