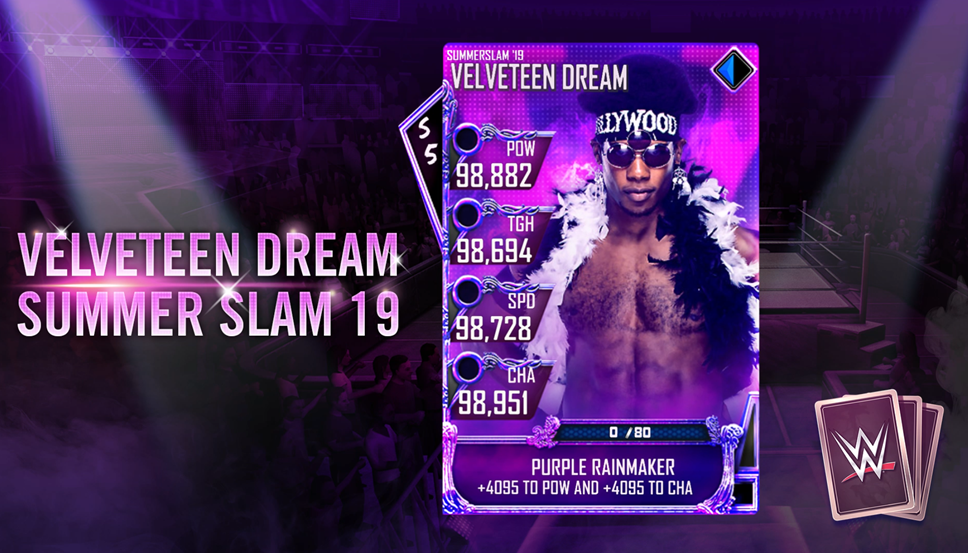 The Velveteen Dream Experience Is Coming to WWE® SuperCard
Collect exclusive cards and enjoy themed packs, free gifts and fun opportunities!
Throughout the month of September, WWE® SuperCard is inviting its players to the Velveteen Dream Experience with limited edition Velveteen Dream cards, unique Velveteen Dream-themed packs, free gifts, and other fun opportunities.
These packs and cards are only available through the month of September, offering players an opportunity to collect prestige items and timed content.
A few of the month's highlights include ...
A September-exclusive SummerSlam '19 Velveteen Dream card will start dropping off the Draft Board this Sunday at a low percentage chance, and will also be available in a pack later in the month;
Another September-exclusive SummerSlam '19 Velveteen Dream Fusion card will be available alongside a host of other SummerSlam '19 Fusions in the Fusion Chamber;
Dream-themed packs will be available across the entire game throughout the month. Players will also be able to collect multiple gifts in the store;
A special Velveteen Dream cardback will be available in the Battle Points store;
A Dream portrait pack will be available at the end of September;
A week-long Clash of Champions mini Fusion event will challenge players.
The first Velveteen Dream Experience exclusives will drop this coming Sunday, September 1. Be sure to grab the latest update and experience the dream for yourself!
Cat Daddy Games is a 2K studio. 2K is a wholly owned publishing label of Take-Two Interactive Software, Inc. (NASDAQ: TTWO).
# # #
Contact Information
Nathan Rillo
FINN Partners