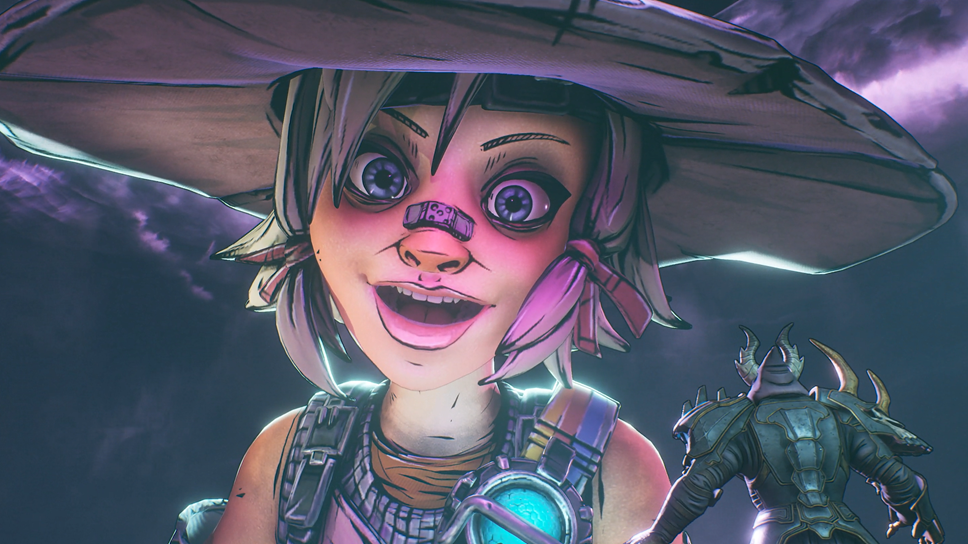 Tiny Tina's Wonderlands® Debuts Dazzling New Trailer at The Game Awards
Will Arnett and Ashly Burch introduce the latest look at the upcoming fantasy looter shooter from Gearbox Software and 2K
During The Game Awards today, 2K and Gearbox Software debuted an all-new look at Tiny Tina's Wonderlands®, the highly anticipated, fantasy-fueled take on the looter shooter genre coming March 25, 2022. Appearing on stage from the all-star celebrity cast were Will Arnett (the Dragon Lord) and Ashly Burch (Tiny Tina), who introduced the trailer with nods to the epic characters they voice in-game. Visit newsroom.2k.com for on-stage images and playwonderlands.com to view the trailer.
Today's trailer offered a sneak peek at the story of Tiny Tina's Wonderlands, as the utterly unpredictable Tiny Tina guides players through a game of the tabletop role-playing adventure Bunkers & Badasses. As the Fatemaker, you hold the story in your hands. Explore a fantastical land filled with outlandish monsters and loot-filled dungeons, all while trying to stop the tyrannical Dragon Lord and his skeleton army.
Additionally, fans got a closer look at the unforgettable cast of characters joining you on this adventure, including headstrong captain Valentine and rule-obsessed robot Frette. New details about key characters are now available on the Tiny Tina's Wonderlands Game Guide, including:
Tiny Tina's Wonderlands will launch on March 25, 2022 across Xbox Series X|S, Xbox One, PlayStation®5, PlayStation®4, and PC via the Epic Games Store exclusively at launch, and on other PC digital storefronts later in 2022. Pre-orders are now available across all launch platforms.
Developed by Gearbox Software, the anticipated ESRB rating for Tiny Tina's Wonderlands is T for Teen. For screenshots, key art, and other visual assets, please visit newsroom.2k.com. To learn more, please visit playwonderlands.com and follow @PlayWonderlands on Twitter, Instagram, and Facebook.
In celebration of Tiny Tina's appearance at The Game Awards, discounts* will be available at select retailers for the recently released Tiny Tina's Assault on Dragon Keep™: A Wonderlands One-Shot Adventure. Players can now enjoy discounts of the fan-favorite quest in the Epic Games Store from December 9 at 8:00 AM PT to December 11 at 8:00 AM PT, in the PlayStation Store (SIE Americas) from December 10 at 12:00 AM PT to December 13 at 11:59 PM PT, and in the PlayStation Store (SIE Europe) from December 9 at 4:00 PM PT to December 12 at 3:59 PM PT.
*Discounts based on 2K's suggested retail prices. Digital Only. Exact offer dates & discounts may vary by region & are subject to retailer's own terms. See retailer's site for specific details & terms. 2K Games is not responsible for the fulfillment of any retailer offer.
Online Account (13+) required to access online features. See www.take2games.com/legal and www.take2games.com/privacy for additional details.
2K is a wholly owned publishing label of Take-Two Interactive Software, Inc. (NASDAQ: TTWO).
# # #