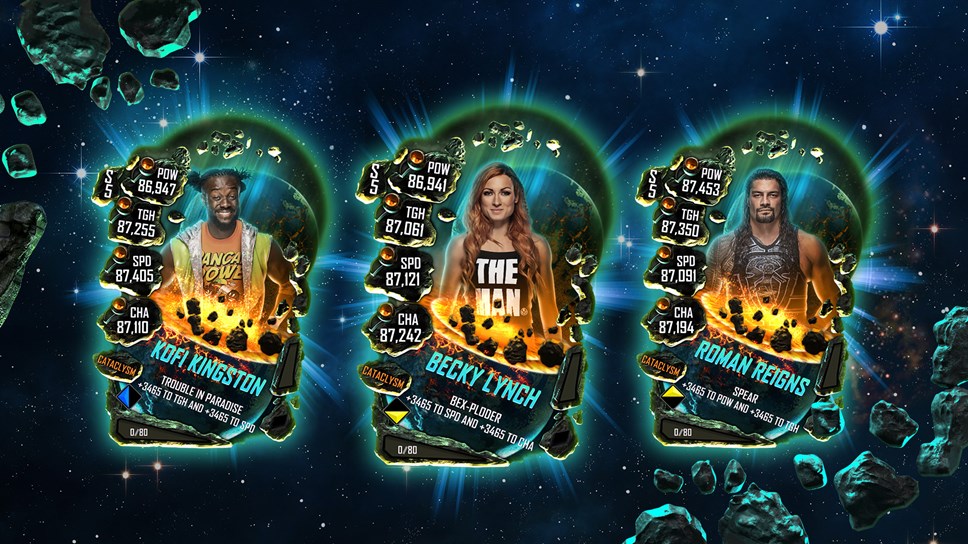 WWE® SuperCard: New Cataclysm Tier Available Now
Collectible card-battling game to see addition of 75 new cards featuring popular WWE and NXT Superstars, as well as the debut of NXT's Ligero, Kaci Catanzaro and Mia Yim
2K today announced the release of the new Cataclysm tier for WWE® SuperCard, the action-packed collectible card-battling game.
Starting this Wednesday, the new tier of more than 75 world-shattering cards features top WWE Superstars including Becky Lynch, Seth Rollins, Roman Reigns, Aleister Black, Ali, Velveteen Dream and Alexa Bliss, among others. Additionally, the Cataclysm tier includes WWE SuperCard debuts for new favorites Ligero, Kaci Catanzaro and Mia Yim.
On top of new Cataclysm cards crashing into play, be on the lookout for a new event this summer where players will be able to put their decks to the test.
WWE SuperCard is available for free download on the App Store for iOS devices, as well as the Google Play Store and Amazon App Store for Android devices. For additional Cataclysm tier details, check out the blog post here: https://wwe.2k.com/supercard/news/wwe-supercard-cataclysm/
For more information on the WWE SuperCard series and 2K, visit wwe.2k.com/supercard, become a fan on Facebook or follow the game on Twitter and Instagram.
Cat Daddy Games is a 2K studio. 2K is a wholly owned publishing label of Take-Two Interactive Software, Inc. (NASDAQ: TTWO).
# # #
Contact Information
Connor Szymanski
FINN Partners