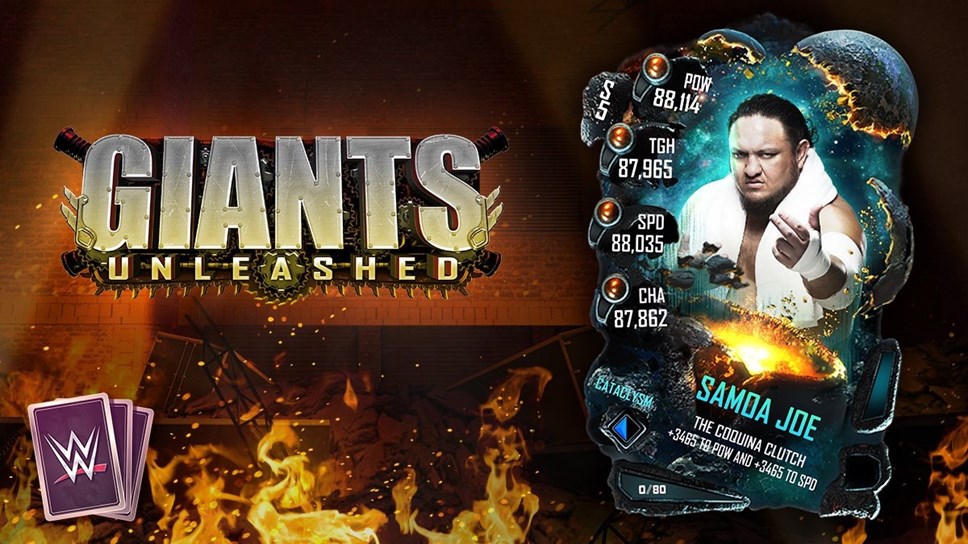 WWE® SuperCard: New Giants Unleashed Event Available Now
New event to see community members align and work together in building larger-than-life WWE Superstars for cards and bragging rights
2K today announced the release of a new community event, Giants Unleashed, for WWE® SuperCard, the action-packed collectible card-battling game.
Available now, Giants Unleashed is a new and totally different kind of event that tasks the community of players with working together to battle larger-than-life WWE Superstars for cards and bragging rights. The virtual rings strain under the might of these new gigantic cards, but those armed with a diverse deck may just be able to take them down and battle all the way to the end to earn an event card.
During a Giants Unleashed match, players will need to assemble their best 16 cards and battle the Giants, a new set of towering cards that eat up major space in the ring and sling Superstar cards around with ease. Players who do enough damage to a Giant will then receive a reward. But Giants don't hang around forever – players have to act fast and work together, or the Giant will lumber away unscathed.
During each fight, Giants will choose different Alignments that will need to be matched to maximize damage. Players can also use Gear to multiply the damage.
WWE SuperCard is available for free download on the App Store for iOS devices, as well as the Google Play Store and Amazon App Store for Android devices. For additional details on Giants Unleashed, please check out the blog post here: https://wwe.2k.com/supercard/news/wwe-supercard-giants-unleashed/
For more information on the WWE SuperCard series and 2K, visit wwe.2k.com/supercard, become a fan on Facebook or follow the game on Twitter and Instagram.
Cat Daddy Games is a 2K studio. 2K is a wholly owned publishing label of Take-Two Interactive Software, Inc. (NASDAQ: TTWO).
# # #
Contact Information
Connor Szymanski
FINN Partners