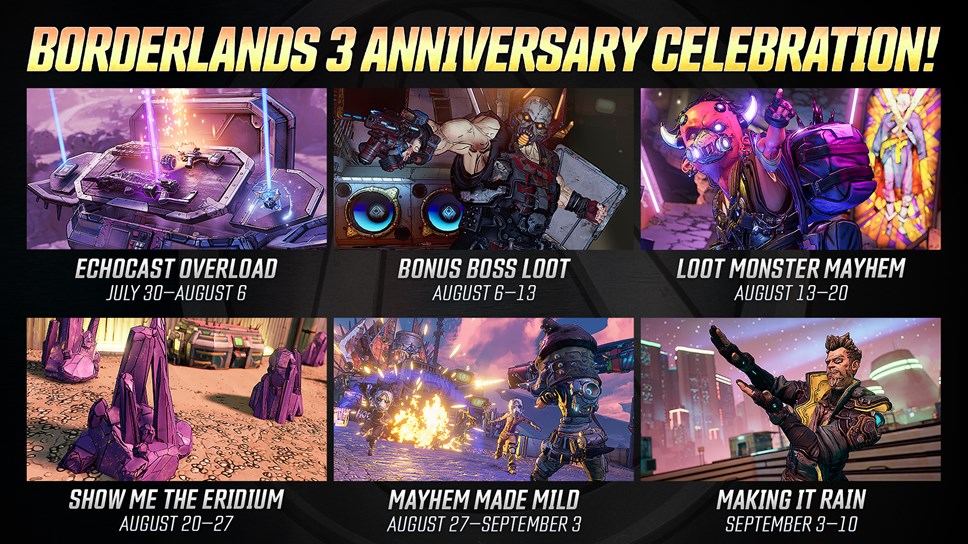 Borderlands® 3 Anniversary Celebration Kicks Off Next Week; New Update Arrives Today
Celebrate one year of Borderlands 3 with six weeks of mini-events starting July 30, and enjoy expanded Eridium spending options and more now
It's been nearly a year since Borderlands® 3 made its big debut on September 13, 2019, and we've collectively made all kinds of mayhem in the months since launch.
In appreciation of all the support from the Borderlands community, 2K and Gearbox Software will be kicking off the Borderlands 3 Anniversary Celebration on July 30, bringing you a whopping six weeks of mini-events in anticipation and celebration of Borderlands 3's first birthday.
A fresh mini-event will be activated every Thursday from July 30 through September 10. The theme and specifics for each mini-event will shared on borderlands.com and Borderlands' social channels each week, but for now, take a look at what's on the way:
ECHOcast Overload (July 30 to August 6) – Better chance of scoring loot during Rare Chest Events in the ECHOcast Twitch extension;
Bonus Boss Loot (August 6 to August 13) – Most bosses have an increased chance to drop Legendary loot;
Loot Monster Mayhem (August 13 to August 20) – Increased spawn rates for Loot variant enemies;
Show Me The Eridium (August 20 to August 27) – Increased Eridium drops, plus Eridium item discounts;
Mayhem Made Mild (August 27 to September 3) – All Easy modifiers in Mayhem Mode;
Making It Rain (September 3 to September 10) – Enemies drop more in-game cash.
Participating in these free mini-events requires nothing more than a copy of Borderlands 3, though you can also enjoy the benefits of these events while playing Bounty of Blood and the other campaign add-ons included in the Season Pass. Please refer to this article for additional details.
2K and Gearbox also launched another Borderlands 3 quality-of-life update earlier today, delivering new Eridium options, adjustments to Boss loot pools, and other community-requested changes.
Vault Hunters sitting on stockpiles of Eridium – the rare element that serves as in-game currency in Borderlands 3 – can now spend their stashes at the Veteran Rewards vending machine located on Sanctuary III to obtain rare mission rewards that, in some cases, could previously only be obtained once per playthrough.
You can also invest your Eridium into the Eridian Fabricator 2.0, an update to the infamous gun that shoots guns. Its new alternate firing mode requires a hefty chunk of Eridium, but it also guarantees the Fabricator will spit out a Legendary weapon.
If you prefer to farm Legendaries the old fashioned way, you'll be happy to know the Boss loot pools have now been spread across more Boss enemies, making it easier to grind for the exact Legendary you want and need. To learn more about these and other exciting updates, check out this blog.
For more information about Borderlands 3's features and content, please visit borderlands.com. To download screenshots, art, and other Borderlands 3 assets, please click here. For additional information and assets covering the entire 2K catalog, please visit newsroom.2k.com.
2K is a wholly owned publishing label of Take-Two Interactive Software, Inc. (NASDAQ: TTWO).
# # #