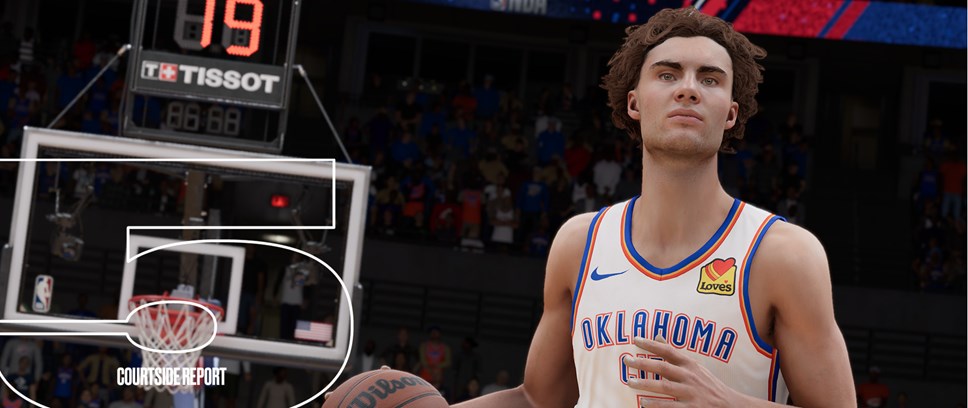 NBA® 2K23 Reveals All-New Ways to Play in MyTEAM
Experience all new ways to play with the addition of Triple Threat Online: Co-Op* and Clutch Time Single Player, and enjoy more freedom with the removal of contracts in MyTEAM
2K today revealed an extensive look at the new features and updates coming to MyTEAM in NBA® 2K23, including all-new cards and rewards, the introduction of Triple Threat Online: Co-Op*, and eliminating the need for contracts. Additionally, the annual $250,000 MyTEAM Unlimited Tournament** returns for players to compete in, with one track on Playstation® 4/Xbox One consoles and another track on Playstation 5/Xbox Series X|S consoles.
"We've implemented a number of highly requested changes to MyTEAM this year that were top of mind for our community, including the removal of contracts, along with the addition of Triple Threat Online: Co-Op that allows players to team up with friends for the first time ever to test their skills in Co-Op 3v3 online gameplay", said Erick Boenisch, VP of NBA Development at 2K and Visual Concepts. "We expect to see some exciting match-ups with the return of our annual $250,000 MyTEAM Unlimited Tournament as the best NBA 2K players go head-to-head to prove their skills on the virtual court!"
Top highlights of this year's NBA 2K23 MyTEAM updates include:
Triple Threat Online: Co-Op*: For the first time ever in MyTEAM, this brand new game mode will allow players to partner with friends for Co-Op 3v3 online gameplay across different variations. Party Mode, Co-Op and Competitive Online.
Unlimited: The all-new Prestige Tiers allow players that reach the top tier to start over and unlock even more rewards. Players will earn Season Points, with every win or loss, that help them to advance tiers. Every win will provide a vault opening. Leaderboards are back and will show stats from friends and top players throughout the MyTEAM community. As an added bonus, a special icon will be displayed next to the names of players in the Top 10. Players can also earn a special icon for completing all possible tiers and prestiges for the Season.
Clutch Time Single Player: Jump into a single player version of Clutch Time, a fast-paced mode with a 4-point line, to take your best starting five and compete against the AI.
Starter Cards: Players can choose between All-Stars Ja Morant, Jimmy Butler or Joel Embiid to lead their collection. Players will get to play with their Starter Card choices in a Triple Threat game before finalizing their decision. After 10 games in any MyTEAM mode players will earn a 90 OVR Amethyst Fred Jones card to help jumpstart their team.
Exhibitions: In Exhibitions, players can now send player cards outside of their 13-player lineup on vacation around the globe and players will return with a special reward from their mission.
Trophy Case: This is a new way to earn top tier players from each franchise by completing a team's Trophy Case. With 15 Event Cards for each NBA franchise, showcasing key moments of their history, players can earn a Pink Diamond player for each team.
MyTEAM Unlimited Tournament**: $250,000 MyTEAM Unlimited Tournaments return this year for each console generation. Reach the Emerald Tier in the new Unlimited before the first GameDay on October 15 to participate. The finalists will be brought to an in-person setting to crown the $50,000 Console Champions, and the $200,000 Grand Champions.
For all the details on the new MyTEAM updates coming to NBA 2K23, check out the latest Courtside Report.
Progress players make on PlayStation 4 and Xbox One versions of NBA 2K23 will transfer to the PlayStation 5 and Xbox Series X|S versions within the same console family. More information is available in the cross-progression FAQ.
NBA 2K23 is currently scheduled for release on September 9 for PlayStation 5 and PlayStation 4, Xbox Series X|S and Xbox One, Nintendo Switch, and PC platforms. For more information, please visit the game's official website.
Developed by Visual Concepts, NBA 2K23 is rated E for Everyone from the ESRB.
Follow NBA 2K23 on TikTok, Instagram, Twitter, YouTube, and Facebook for the latest news.
Visual Concepts is a 2K studio. 2K is a wholly owned publishing label of Take-Two Interactive Software, Inc. (NASDAQ: TTWO).
* Triple Threat Online: Co-Op not available on Nintendo Switch.
** NBA® 2K23 MyTEAM Unlimited $250,000 Tournament:
ABBREVIATED RULES
Open to legal residents of the 50 United States & D.C. (excluding AZ, CT, MD, and ND), Australia, Canada (excluding Quebec), Chile, Denmark, France, Germany, Great Britain, Greece, Greater China, Indonesia, Israel, Japan, Mexico, New Zealand, Norway, Philippines, Portugal, Republic of Ireland, Singapore, South Africa, South Korea, Spain, Sweden, Switzerland, Thailand, and Turkey, who are at least 18 years of age and the age of majority in their state/country/province of residence. Void in AZ, CT, MD, ND, Quebec and where prohibited. Contest will consist of 2 separate tracks for PlayStation (PS) and Xbox entrants.
To participate, you must have NBA® 2K23 game ("Game"), a Gamertag and Xbox Gold Service or PSN ID and PS Plus service, and Internet connection. Game must be played on PS4 and Xbox One for Track 1 and PS5 and Xbox X/S for Track 2. This Contest consists of: (i) the Pre-Qualifying Period; (ii) the GameDays; and (iii) the Tournament. You must qualify during the Pre-Qualifying Period to participate in the GameDays. The Pre-Qualifying Period begins on September 9, 2022 at 12:00:00 AM local time. The first GameDay takes place on October 15, 2022 and the last GameDay takes place on February 18, 2023. You must qualify for the Tournament, which is currently scheduled to take place on March 4, 2023 at 10:00 AM U.S. Pacific Time for Track 1 and on March 5, 2023 at 10:00 AM U.S. Pacific Time for Track 2.
Subject to the Official Rules, which will be posted at [https://nba.2k.com/2K23/myteam-unlimited-tournament/]. Sponsored by 2K Games, Inc. ("2K"), a wholly owned subsidiary of Take-Two Interactive Software, Inc., 10 Hamilton Landing, Novato, CA 94949, USA.