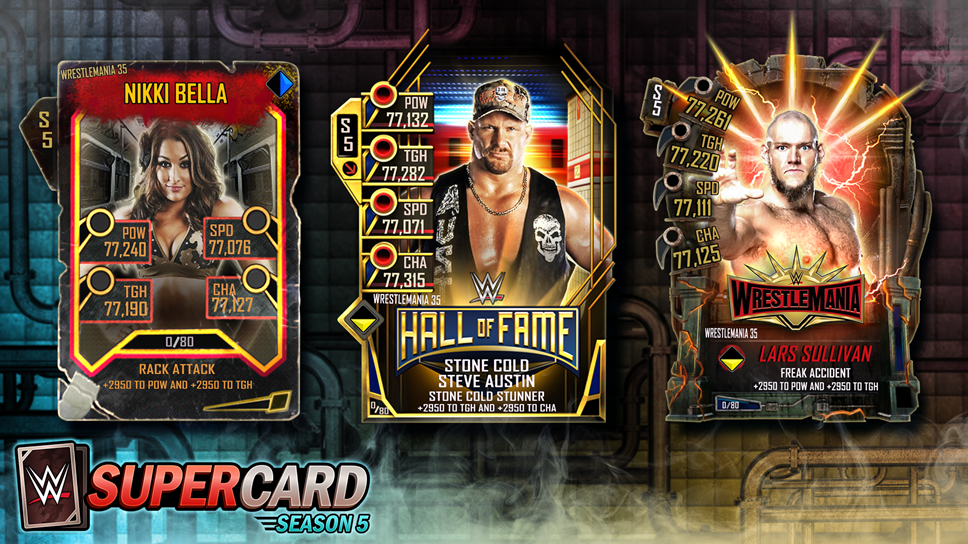 WWE® SuperCard WrestleMania 35 Cards: Throwback, Hall of Fame and Fusion Cards
Newest update to roll out across the month of May, including a variety of prominent WWE Superstars and Hall of Famers
2K today announced details on the first update since WrestleMania 35 for WWE® SuperCard, the action-packed collectible card-battling game. The WrestleMania 35 update will debut new Throwback, Hall of Fame and Fusion cards, which will roll out throughout the month of May.
Powered with the WrestleMania 35 tier, these three types of cards will become some of the most competitive in the game. Collect Throwback Superstars including Shelton Benjamin, Nikki Bella and more, Hall of Fame Superstars including Eddie Guerrero, Stone Cold Steve Austin and more, and Fusion Superstars including Bray Wyatt, Lars Sullivan and more. For additional details and a full roster of new cards, please check out the blog post here: https://wwe.2k.com/supercard/news/supercard-tbt-hof-fusions
WWE SuperCard is available for free download on the App Store for iOS devices, as well as the Google Play Store and Amazon App Store for Android devices.
For more information on the WWE SuperCard series and 2K, visit wwe.2k.com/supercard, become a fan on Facebook or follow the game on Twitter and Instagram.
Cat Daddy Games is a 2K studio. 2K is a wholly owned publishing label of Take-Two Interactive Software, Inc. (NASDAQ: TTWO).
# # #
Contact Information
Connor Szymanski
FINN Partners