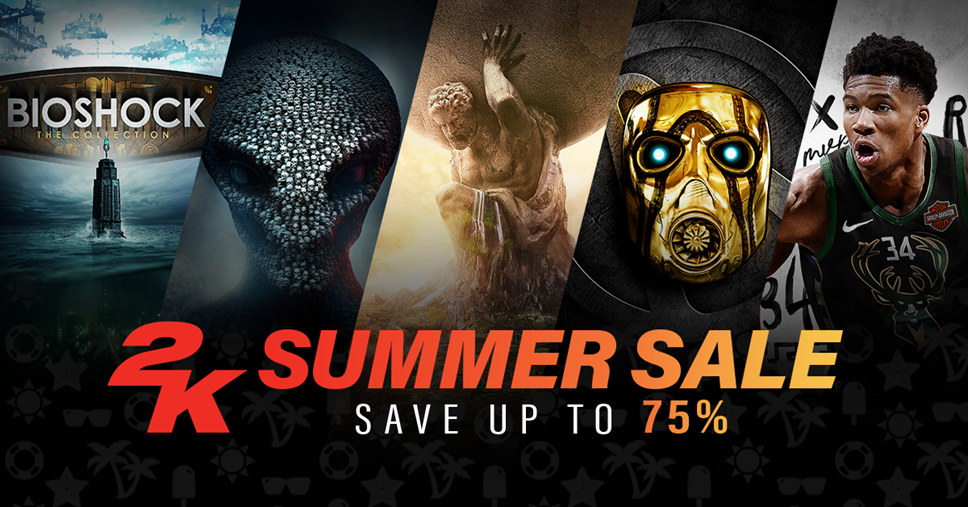 Massive 2K Discounts on Borderlands®, Sid Meier's Civilization® VI, NBA® 2K19, XCOM® 2 and More
It's that time of the year again! The 2019 Steam Summer Sale deals are here and include 2K's critically acclaimed portfolio of AAA titles.
From June 25 to July 9, save up to 75% off on Borderlands®, Sid Meier's Civilization® VI, NBA® 2K19, WWE® 2K19, XCOM® 2 and more. Now is the right time to expand your collection or jump into a franchise for the first time!
Borderlands
The hype around Borderlands is bigger and badder than ever this year and several games in the franchise are on huge discount! Completely remastered in Ultra HD, the Borderlands series is looking better than ever! There is even brand-new Borderlands 2 content available free until July 8 – Commander Lilith & the Fight for Sanctuary. Team up with up with friends for cooperative online as you spend hours leveling up your character and equipping them with a visually stunning array of procedurally generated guns, shields, grenades, artifacts and more. Choose from a variety of character classes to be taken through a carefully crafted and connected story across the living planet of Pandora.
Civilization VI
Whether you prefer military domination or peace through diplomacy, Civilization VI offers multiple paths to victory as you attempt to build an empire to stand the test of time. Explore a new land, research technology, conquer your enemies and go head-to-head with history's most renowned leaders as you strive to build the greatest civilization the world has ever known. Don't forget to pick up the most successful expansion in franchise history, Civilization VI: Gathering Storm while you are at it! The choices you make in the game will influence the world ecosystem and could impact the future of the entire planet.
NBA 2K19
"NBA 2K19 isn't just a game, it's a lifestyle (Game Informer)." Celebrating 20 years of redefining what sports gaming can be, from best-in-class graphics and gameplay to ground-breaking game modes and an immersive open-world "Neighborhood," NBA 2K19 continues to push limits as it brings gaming one step closer to real-life basketball excitement and culture. Pick up the full game today and start building your own team of superstars in NBA 2K19 MyTEAM. With completely new modes such as MyTEAM Unlimited and Triple Threat and more cards to collect than ever before, there's no better time to jump into MyTEAM!
XCOM 2
Attention, Commander – save up to 75% on XCOM 2 and 50% on the critically-acclaimed expansion War of the Chosen in the Steam Summer Sale 2019! Experience turn-based tactics at its finest as you build a resistance to reclaim Earth from alien rule.
WWE 2K19
Delivering a unique mix of authenticity, storytelling and fun, WWE 2K19 showcases a massive roster of popular WWE, NXT and 205 Superstars, as well as WWE Legends and Hall of Famers. With renewed focus on fun, it features engaging WWE gameplay across a variety of match types and options like Big Head and Block Body, extensive creation capabilities, fan-favorite modes such as the return of 2K Showcase featuring WWE Superstar Daniel Bryan.
BioShock®: The Collection
Return to the cities of Rapture and Columbia and experience the award-winning BioShock franchise beautifully remastered in 1080p. BioShock: The Collection contains all single-player content from BioShock, BioShock 2, and BioShock Infinite, all single-player add-on content, the Columbia's Finest pack, and Director's Commentary: Imagining BioShock, featuring Ken Levine and Shawn Robertson.
For more information on all titles, please visit the Steam 2K Collection page.
Firaxis Games and Visual Concepts are 2K studios. 2K is a wholly owned publishing label of Take-Two Interactive Software, Inc. (NASDAQ: TTWO).
# # #