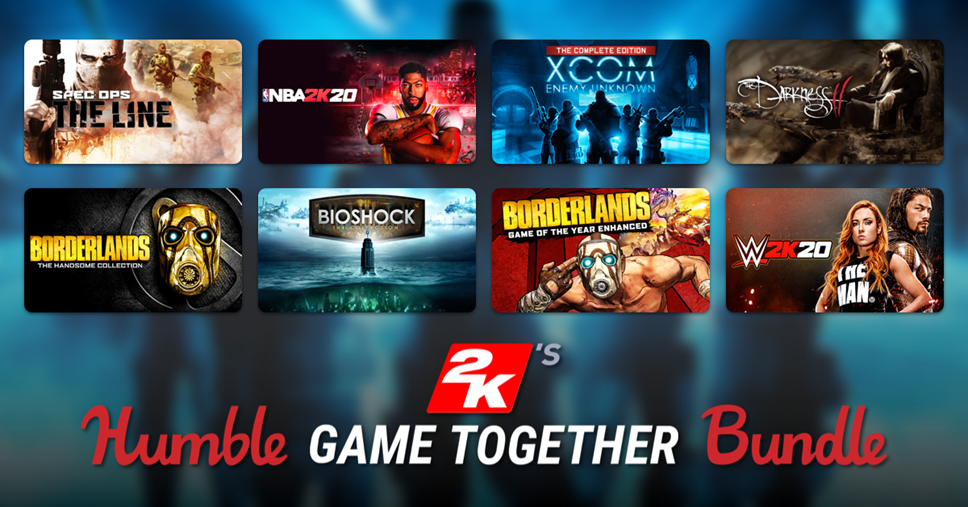 Humble 2K's Game Together Bundle to Support International Medical Corps Relief Efforts During COVID-19 Pandemic
Charity partnership offers broad portfolio of 2K titles, including NBA® 2K20, WWE® 2K20, XCOM®: Enemy Unknown Complete Edition and Borderlands®: Game of the Year Enhanced
Today, 2K announced that it has partnered with Humble Bundle to offer a selection of titles as part of the Humble 2K's Game Together Bundle, with a portion of 2K's revenue going to support International Medical Corps in its COVID-19 relief efforts.
Beginning Tuesday, April 14 at 11:00 a.m. PDT and ending on Tuesday, April 28 at 11:00 a.m. PDT, the following Humble 2K's Game Together Bundle offers will be available:
Pay $1: Players will receive The Darkness™ II, Sid Meier's Pirates!®, Carnival Games® VR and Spec Ops®: The Line;
Beat the Average: Players will receive The Golf Club 2019 Featuring PGA TOUR®, BioShock®: The Collection, Sid Meier's Civilization® III: Complete, NBA® 2K Playgrounds 2 and all games included in the Pay $1 tier;
Pay $20 or More: Players will receive NBA® 2K20, WWE® 2K20, XCOM®: Enemy Unknown Complete Edition, Borderlands®: Game of the Year Enhanced, Borderlands®: The Handsome Collection and all games included in both the Beat the Average and Pay $1 tiers.
Normally, the total cost for the games in this bundle would be nearly $500.00. The Humble 2K's Game Together Bundle allows customers to choose the price and where the money goes. The bundle has a minimum $1 purchase.
Established in 1984 by volunteer doctors and nurses, International Medical Corps' is a global humanitarian organization – and first responder in the wake of COVID-19 – that offers medical services and training to people affected by conflict, disaster and disease, helping them recover and chart their own path to self-reliance. In response to the COVID-19 pandemic, it is providing emergency medical field units, personal protective equipment (PPE), volunteer clinicians and training to hospitals around the US, and expertise, equipment, training, and triage and treatment services globally.
For more information about Humble 2K's Game Together Bundle please visit http://www.humblebundle.com/games/2KGameTogether and 2k.com. For further details on International Medical Corps, please visit https://internationalmedicalcorps.org/.
Firaxis Games and Visual Concepts are 2K studios. 2K is a wholly owned publishing label of Take-Two Interactive Software, Inc. (NASDAQ: TTWO).
# # #